Team Exeter
Research Team Exeter (WP 2): Learned Societies in Britain, 1880-1914
WP 2 team: Dr. Joe Kember, University of Exeter (leader), Dr. Richard Crangle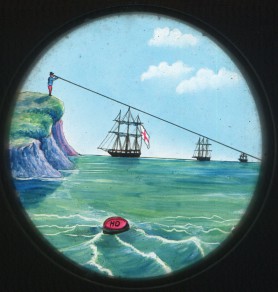 One would be hard pushed to find a more neglected, yet substantial, national heritage resource than the magic lantern slide material dispersed across numerous British museums, libraries and archives. Individual collections, sometimes numbering over 100,000 items, each represent a remarkably rich visual archive concerning multiple aspects of regional public life. This work package explores three representative public collections of our Associated Partners: the Library of Birmingham, the Royal Geographic Society in London, and the Exeter Royal Albert Memorial Museum, with a specific focus on slide sets and associated materials derived from educational groups and learned societies during the period 1880-1914.
For more information about research and public activities, see Local Activities
Back to Project Partners
Image credits: "Measuring": scan from slide in private collection Gwen Sebus.