Creative Re-Use
27 Oct 2016 - 13 Nov 2016
19:00
M HKA - Museum of Contemporary Art Antwerp, Inbox
Exhibition: Schijnvis / Showfish / Poisson brillant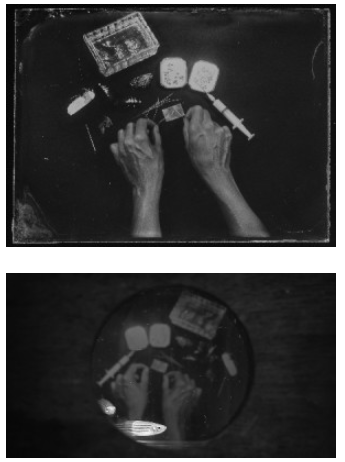 Official opening and premiere of Schijnvis / Showfish / Poisson brillant
Schijnvis / Showfish / Poisson Brilliant is a new installation by Sarah Vanagt, consisting of five magic lantern projections & two video projections. With the help of a transparant fish egg, two cat's whiskers and a small piece of copper paper, Sarah Vanagt tries to recall some of the earliest microscopic images.The projection microscope is a particular type of magic lantern, developed for showing enlarged images of microscopic subjects. This historical lantern inspired video artist Sarah Vanagt for an exhibition at M HKA (October 27 – November 13, 2016). For Schijnvis / Showfish / Poisson brillant Vanagt revisits the history of the microscopes for a new installation and lantern movie. She thus offers a contemporary perspective on microscopy, science and spectacle.
Sarah Vanagt was invited by members of the Research Team Antwerp and the Research Group Visual Poetics to develop a project inspired by the magic lantern slides and projectors in the Robert Vrielynck collection. In 2003 this collection of antique cameras, optical toys, film posters and a large amount of other cinematographic paraphernalia, was acquired by Museum for Contemporaru Arts Anwtperp (M HKA) with the aid of the Flemish Community. Between 2011 and 2013, the Vrielynck collection was the source of research for a series of exhibitions curated by Edwin Carels with artists such as Julien Maire, Zoe Beloff, and David Blair. Sarah Vanagt is the fourth artist that has been invited to interact with the Vrielynck collection.
The opening and premiere are part of the public activities of our third international workshop "The Magic Lantern Today. Creative Re-Use of Cultural Heritage".
Images: Tank slides from installation "Schijnvis / Showfish / Poisson brillant", 2016 (collodion positive on glass) © Sarah Vanagt.