Creative Re-Use
The Raree Man's Peep Show
Tony Lidington and his troupe 'Promenade Promotions' have put on a peepshow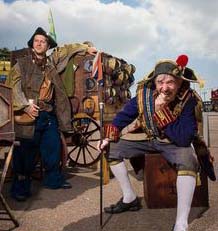 based on magic lantern slides digitised from our Partner Royal Albert Memorial Museum (RAMM) in Exeter. Glorying in the title, 'Lucky Dicky Crangle and the Cinnabar Moth', the latest performance from the Raree Man Peep Show used slides from all parts of the collection, which Tony assembled into a story leading 'Lucky Dicky' from adventure to adventure.
Following the premiere at the RAMM, the show was performed across the UK during the summer at numerous festivals, such as the Beverley Puppetry Festival; Just So; Exeter Playdays Festival; Dartmoor Folk Festival; Kendal Calling; Devizes Outdoor Arts (Street) Festival; Festival Number 6 (Portmeirion), and it should remain in the repertoire for years to come.
Besides bringing lantern slides long kept in the archive to audiences in Museums, festivals, and streets, the show also provides a wonderful example of nineteenth-century showmanship brought up to date. Watch the 3-minute-video trailer by Steve Snowden and you'll surely be fascinated, too!